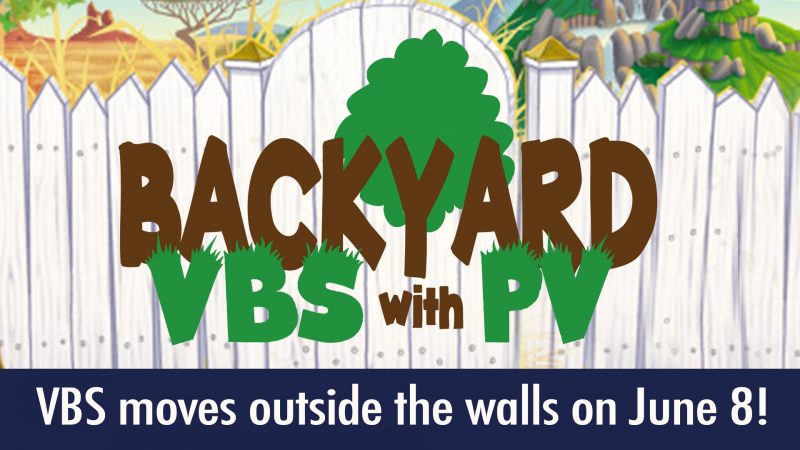 This year we are moving and multiplying VBS by taking it out of the building and into the community on June 8th! We'll bring the theme, Amazing Encounters with Jesus, to our own backyards, culdesacs, parks, pavilions, and even schools. Anywhere people in your neighborhood gather is up for grabs.
This is not just for families with kids. Life groups, friend groups, and neighbors can team up to connect Jesus to the children in your community. This is not meant to be a lot of work or overwhelming in any way. We are not trying to reproduce what we've done at the building in our yards and homes. The message of Christ is a simple one that everyone deserves to hear and sharing that message in a way that makes sense for your family is our goal.
To make it easy, we have designed for you a portable VBS. Backyard VBS gives you easy to follow instructions you can execute with your family or a small team.  Although it contains all the elements of a large scale VBS you will be able to make it perfectly fit any size group. We hope that you are able to relax and have fun sharing the truths of Jesus.
Getting Started!
First, begin in prayer. Prayer is the foundation for any successful experience. Pray for the children that will attend, the children's families and the members of your team. Follow up with:
Pick up your Backyard Packet Guide at PV Children's Check-in
Identify Location and Time Frame
Choose Schedule (in book)
Organize Your Team
Assign Team Leaders
Invite kids: invitation cards (in book), social media, text and personal invitation (scroll down for images to print or text)
Ultimately we are making lasting connections with your families. It is about looking closely at where you are and who God has placed in your path.  Pray and be open to the one God nudges your heart to ask.
In the resource room, you will find a blue crate marked Backyard VBS. There you will find copies of all the items you might need to make duplicates. All the supplies needed for activities, games, crafts, skits, etc.. are available in the resource room. You may drop by and reserve them at your earliest convenience.
Thank you for your desire to serve our kids in the community if you need anything, contact Tina Brown, PV Kids Minister.