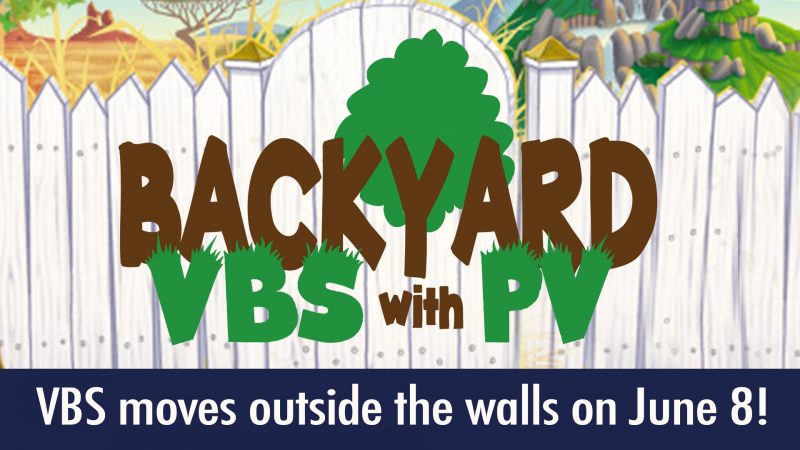 Pleasant Valley is GREAT at VBS! As a family, we have walked through some incredible stories with the children in our church. Heroes of faith like Joseph, Daniel, Elijah, and Joshua have come alive inside this building — our kids even made the walls of Jericho fall in the auditorium! We've had some great adventures together experiencing and placing the stories of the Bible on the hearts of our kids.
These memories and lessons taught through VBS are so special, but for several years our hearts have been pulled in a new direction. We want to expand our reach even further and make VBS a truly evangelistic, community experience for people of all ages.
With that in mind, we are moving and multiplying VBS by taking it out of the building and into the community on June 8th! This year we'll bring the theme, Amazing Encounters with Jesus, to our own backyards, culdesacs, parks, pavilions, and even schools. Anywhere people in your neighborhood gather is up for grabs.
This is not just for families with kids. Life groups, friend groups, and neighbors can team up to connect Christ our Savior to the children in your community. If you do have children in your home, include them in the process!
This is not meant to be a lot of work or overwhelming in any way. No one wants to try and recreate a big production at their home with massive props, labor-intensive crafts, and loads and loads of kids. We are not trying to reproduce what we've done at the building in our yards and homes. The message of Christ is a simple one that everyone deserves to hear and sharing that message in a way that makes sense for your family is our goal.
PV Kids Ministry will provide you with the tools and game plan you need, including PV branded materials to bring the theme, Amazing Encounters with Jesus, to life. We encourage you to make it as simple as you like and focus on taking this unique opportunity to get to know your neighbors or invite classmates from your children's school. This smaller scale, team effort, is designed to minimize your workload and maximize time in your community.
So join us on June 8th* as PV hosts "backyard VBS" all across central Arkansas — what a great day it will be!
*If this date doesn't work for your family you are encouraged to pick one that does!