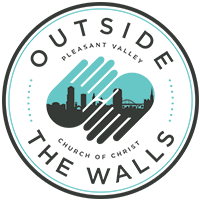 OUTSIDE THE WALLS 2018
scroll down to register
In 2012, PV held its first ever church-wide day of service. More than 750 people participated in service projects across our city. Since then, we have continued in this spirit in many ways to love and serve those outside our church walls in the name of Christ!
On Sunday, November 4, at 9 am, PV will host another Outside the Walls similar in style to the original effort in 2012. We will begin with a shortened time of worship and communion, then break into service groups. All members and guests are encouraged to sign up for a project on the reverse side of this form by October 21.
Projects of all shapes and sizes are available so please refer to the notations on each one to pick the best fit for you and/or your family. Most projects have limits on the number of workers, therefore, projects are assigned on a first come, first served basis. You may sign up for a first and second choice, but we ask for your flexibility as we place our volunteers.
Nursery care is available during worship time as well as during the service project time for children born after October 1, 2016.
The goals of this event are to:
Love one another
Each project has been specifically planned and prayed for to ease a specific burden and provide encouragement to our family and our city.
SHOW UP
We want this city to know that we exist for her by providing acts of love all across this community in a BIG way. Together, we will showcase what God can do through his family.
PARTNER IN THE GOSPEL
There are many ongoing ministry efforts being poured into by PV members. If you are currently a part of one of those – this gives you the opportunity to invite someone to join you. If you have not yet found that place where your talent and passions meet, try something new on November 4.  We want each of our members to partner with us in the Gospel to become the best local church we can be.
BONFIRE SUNDAY EVENING
To end the day of service together, we will join in worship and fellowship at Joe and Pattie Jo White's (1120 Walnut Grove Rd, Little Rock, AR 72223) at 4 pm. Bring lawn chairs, blankets, and flashlights. Hot dogs, chips, s'mores and drinks will be provided.
REGISTER