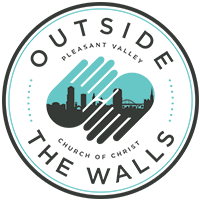 WHAT YOU NEED TO KNOW THIS SUNDAY
We will begin at 9 am with a combined worship. Don't forget to set your clock back!
We are having a photo contest!

Make sure someone from your project posts at least one public photo to Facebook or Instagram, tagging it #pvout18.
If no one in your group has a social media account to post to, you can send a photo to courtney@pvcc.org to be entered.
We will vote on the winning picture online through the SNAP email on Tuesday. The winning picture will be featured in the bulletin the following Sunday!

There is a chance of rain. If your project is outside, please be prepared to be flexible in case we need to reroute you to another project due to weather. Your leader will let you know Sunday what the plan for your group is.
Leaders: please arrive at 8:30 am to pick up your remaining t-shirts and signs. Participants: you will be directed to your group following the combined service. Wear your shirt if you have already received it. Click here to view the map to double check where your project meets!
Most projects will be completed by 12 or 12:30.
Bonfire | 4 pm at 1120 Walnut Grove Rd in Little Rock:

We will make the call Sunday morning to determine if the bonfire is going to be rained out and let everyone know during the announcement time
Remember to bring flashlights (phone lights may not be bright enough – it's going to get dark quick!), blankets and/or lawn chairs, and marshmallow roasting sticks. 
Hotdogs, chips, drinks and s'mores provided
OUTSIDE THE WALLS 2018
In 2012, PV held its first ever church-wide day of service. More than 750 people participated in service projects across our city. Since then, we have continued in this spirit in many ways to love and serve those outside our church walls in the name of Christ!
On Sunday, November 4, at 9 am, PV will host another Outside the Walls similar in style to the original effort in 2012. We will begin with a shortened time of worship and communion, then break into service groups.
Nursery care is available during worship time as well as during the service project time for children born after October 1, 2016.
The goals of this event are to:
Love one another
Each project has been specifically planned and prayed for to ease a specific burden and provide encouragement to our family and our city.
SHOW UP
We want this city to know that we exist for her by providing acts of love all across this community in a BIG way. Together, we will showcase what God can do through his family.
PARTNER IN THE GOSPEL
There are many ongoing ministry efforts being poured into by PV members. If you are currently a part of one of those – this gives you the opportunity to invite someone to join you. If you have not yet found that place where your talent and passions meet, try something new on November 4.  We want each of our members to partner with us in the Gospel to become the best local church we can be.
BONFIRE SUNDAY EVENING
To end the day of service together, we will join in worship and fellowship at Joe and Pattie Jo White's (1120 Walnut Grove Rd, Little Rock, AR 72223) at 4 pm. Bring lawn chairs, blankets, and flashlights. Hot dogs, chips, s'mores and drinks will be provided.
REGISTER
Registration is closed. Group information will be emailed. If you did not sign up and still want to participate, there will be some projects that you can join on site on November 4.