The Family Life Center charges a $5 per month facility fee. This fee covers most classes, weight room and the walking track. Our front desk supervisors are more than happy to give tours and answer questions. This summer we are offering childcare for $15 per month for your immediate family (June/July only)!
The times are as follows:
Mondays & Fridays: 8:20-10:15AM
Tuesdays, Wednesdays, Thursdays: 8:20-9:20AM

Moreover, we have several group exercise classes from which to choose, and all classes are taught by certified instructors. Additionally, we offer classes specifically for seniors. Here is our 2018 Spring Group Exercise Schedule, and you can read about each class here.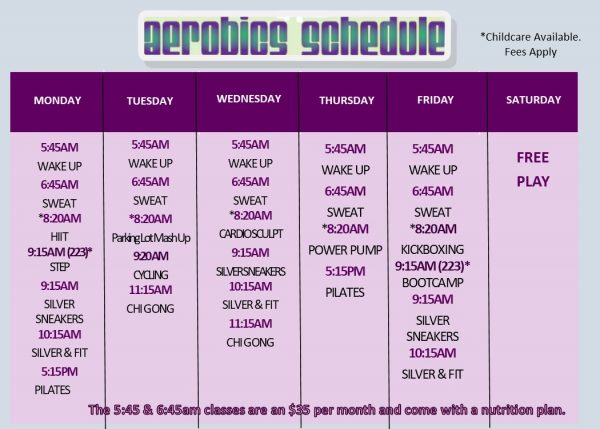 In addition to classes, we have two personal trainers, Sammy and Emily, who can help design a personal fitness plan for you. Call 501-225-5818 or email us through the contact us page. Please note: Personal Training with Sammy Andrew has associated fees.
Track and Training Room Hours:
 Monday, Tuesday and Thursday: 5:30am – 8pm
Wednesday   5:30am – 4pm
Friday 5:30am – noon
Saturday 8am – noon. Please note, Free Play on Saturdays is subject to gym availability.
The Family Life Center includes full-size basketball and volleyball courts, a fitness center, walking track and an aerobic studio. Our facility is open to the public. All court usage must be pre-approved and reserved through the PV main office at 501-225-5818. (Rental fees can apply.)
We are closed on all major holidays, and we reserve the right to change or reduce hours as required by staff limitations.